The Story
After graduating University I decided I didn't want to be a 'traditional' graphic designer working in a graphic design studio. Being a Welsh speaker and a lover of cards and prints, I couldn't help but notice the huge lack of Welsh language cards available. I decided to create my own and make them available to anyone and everyone that might be interested, and thus Cardiau Cymraeg was born.
I got busy.
I planned different card designs, how the website would look and function, my packaging, how to make sure my cards have a low impact on the environment and everything in between. Never did I imagine that a year later I'd have my cards being sold in shops across Wales, and that I would have made an appearance on TV (the scariest thing I have ever done!) talking about this little passion project of mine.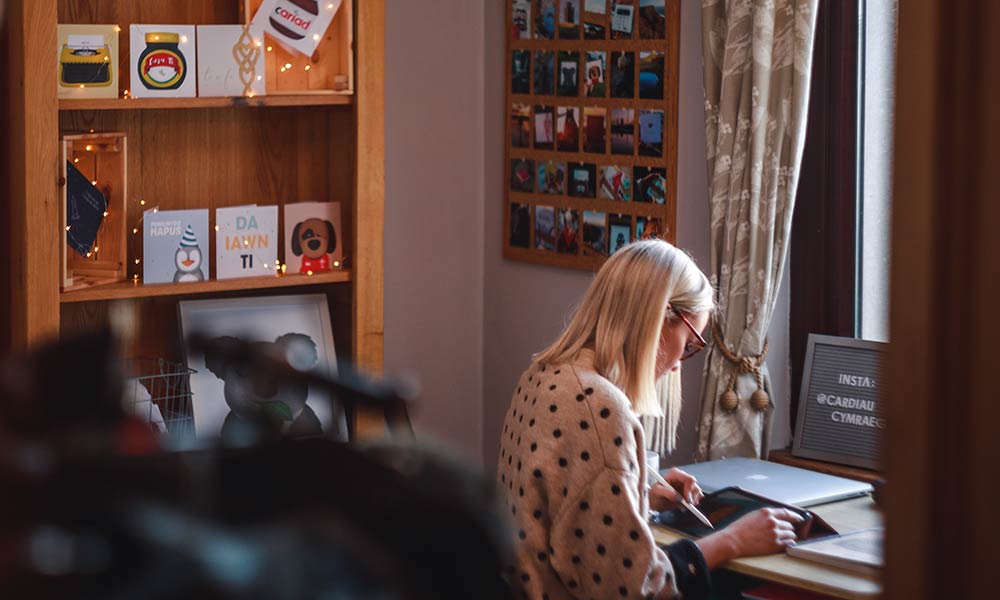 The Packaging 
Every single card and print is illustrated by hand, designed with care, and made with love. Being a huge lover of the environment I wanted to ensure that I didn't create something that added to the enormous plastic pollution problem. I love cards as much as the next person but I don't believe that the short term preserving of a greetings card is worth littering the world with more plastic. Therefore you will not find Cardiau Cymraeg cards in any plastic cello bags. Instead, we use kraft paper bands, stamped with our logo and sealed with biodegradable, uncoated stickers. The cards and envelopes themselves are also uncoated, meaning everything is recyclable and biodegradable.
Similarly, prints are sent out neatly wrapped in brown paper, sealed with a biodegradable sticker, carefully rolled and placed in a sturdy cardboard tube. The lids and bases of these tubes are plastic and recyclable, and the tubes themselves, along with the paper tape used to seal them, are recyclable and biodegradable. When selling prints in shops and fairs they are placed in clear bags (similar to cello bags) which are made from potato starch, meaning they are biodegradable too.
In a further attempt to be eco conscious, any cards or prints that are damaged at Cardiau Cymraeg, are put on sale at discounted prices. under the 'Imperfect Products' category — these imperfections are always very minor, sometimes unnoticeable, but as I strive for perfection with my little shop it wouldn't feel right to sell a product with a tiny mark on it at full price.
What happens after you order …
As soon as your order is complete I am notified of a wonderful new customer (or even better, a repeat customer!) and the celebratory dancing begins. I then step into my Cardiau Cymraeg studio — using the term studio very loosely — and get busy carefully preparing the order. I strive to always post the orders in time for the postman's next visit when possible, but as a rule orders are dispatched in time for the next working day.
More Information
All Cardiau Cymraeg cards are sold for £2.50, with the exception of some sales and Imperfect Products, and delivery to the UK for cards as little as 50p. Free UK delivery is available for card orders of £25 as well as on all Cardiau Cymraeg prints. If you would like to read more about our delivery prices and information, please click here.
Keep your eyes peeled for coupon codes on our social medias: Instagram, Twitter and FaceBook, as every now and then we offer the chance to buy 3 cards for £5 (buy two get one free).
We really hope you enjoyed getting to know this little shop a bit better, and browsing our selection of Welsh greeting cards and prints. Hope you come back very soon!